After a small CNBC interaction with Brad Garlinghouse, CEO of Ripple, he commented on Libra which is one of the controversial planned crytpocurreny as of today. He seemed to comment that Libra might be focusing on competing with the banks, which is not a definite approach they must carry in crypto network. In fact, he happened to comment that it might 'Silicon Valley Arrogance' as approached by Facebook.
"There is a huge opportunity to change the way financial systems work that is very beneficial to consumers and businesses. But it's not competing with the banks." @bgarlinghouse talks #Libra, regulation and more on @CNBC's @SquawkAlley. https://t.co/xWjFltsqMY

— Ripple (@Ripple) July 18, 2019
However, Libra community vision is not quite clear in the open yet. Let's see if the CEO of Ripple will get any answers to his comments.
Price Analysis of XRP/USD
The value of XRP is currently trading at $0.31 at 07:02 UTC time on 19th July 2019. The other essentials are calculated as:
Market Ranking: @3
Return of Investment: 5353.92%
Total supply/Circulating Supply: 99,991,553,791 XRP/ 42,832,704,971 XRP
24 Hour Volume: 1,395,910,385 USD
Market Cap Value: 13,721,657,860 USD
7 Day high/low: 0.349789 USD / 0.291294 USD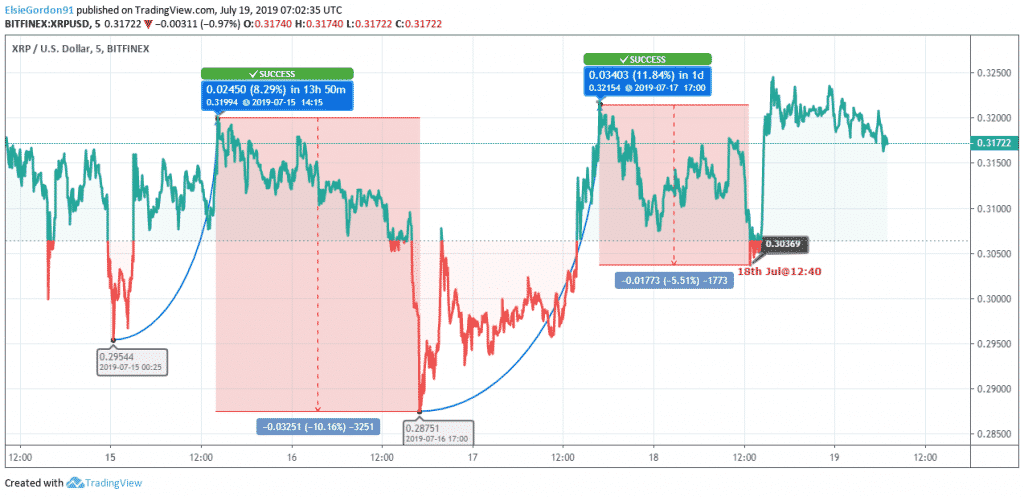 In past 5 days, the lower has realized on 15th July at 00:25 UTC time with trading valuation of $0.2954. The value increased by 8.29% on the same day at 14:15 UTC time trading at $0.3199. The value next day, however, dropped by -10.16% at 17:00 UTC time trading at $0.2875, hitting the lowest touch down.
The value on 17th July at 17:00 UTC time saw a tremendous escalation by 11.84% trading at $0.3215. Yesterday at 12:40 UTC time, the value dropped by -5.51% trading at $0.3036 which is now increased by 4.31% from then.
Ripple is trading still a strong bearish nature. In any case, Ripple may upsurge afresh. Until further notice, the best decision might be 'buying' XRP beginning at now and trust that the increased speeds will happen soon in the blueprint. Beginning at now, the best offer might be under the Resistance Support level decided as:
R3: 0.30795
R2: 0.338651
R1: 0.330913
Pivot Point: 0.318769
S1: 0.311031
S2: 0.298887
S3: 0.291149
And the true followers of Ripple are hoping the touch down of $1 by end of 2019.