Tron price movement reflects steep declining movement over the last few hours. The bearish pressure has taken over the coin. The currency is badly dribbling, and it is speculated that the upcoming hours are not going to be great.
Over the last few days, the price trend of TRX/USD was quite disturbing as the coin continuously faced volatility. However, the currency managed to trade above $0.012 price mark over the last two weeks.
TRON Price Analysis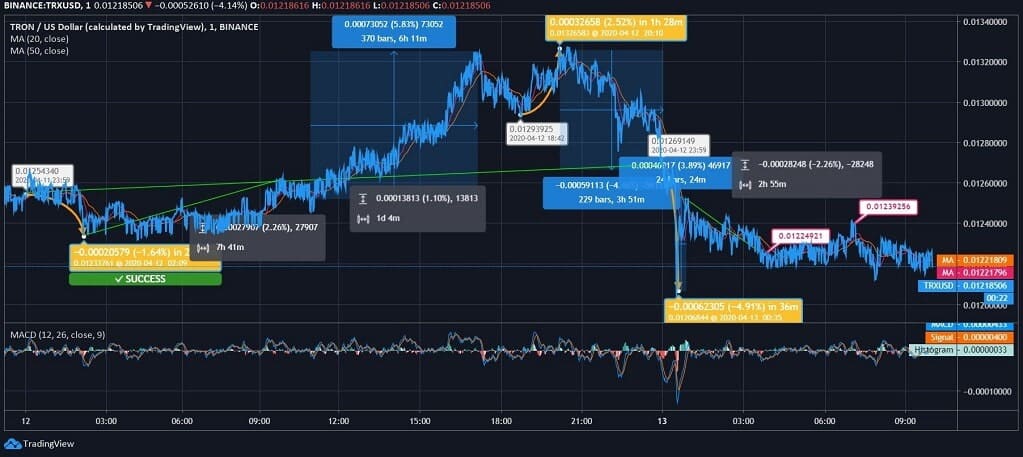 TRON coin began yesterday at $0.0125, and within the next 2 hours, the price dropped to $0.0123. From this low, the currency started dealing upwards with moderate bullish influence, and the TRX price escalated to $0.0133 by 5.83% hike. Then, with a slight plunge to $0.0129, the price improved again and touched $0.0132. The following hours brought a massive plunge, and the coin closed the day at $0.0126. The regression was almost 4.13%. However, the intraday movement in TRON brought 1.10% progression.
Today, the TRX coin started the day with a sharp decline, and the first 30 mins took the price to the low of $0.0120 by 4.91% fall. The currency immediately recovered to $0.0125 by 3.89%, but it faced rejection above $0.0125 and dropped to $0.0122. After that, till the time of writing, the TRON price managed to reflect the consolidation and spotted at $0.0121.
The short-term moving averages, namely, 20 & 50-day, are trending above the current price of TRX coin. The same is reflecting that the chances of further correction are quite ripe. As per the MACD indicator, the MACD line is above the Signal line, and the same is indicating bullish crossover.
The current price of TRON currency has already breached the immediate support level at $0.0124 and now is almost near its crucial support of $0.0120. The same level is likely to violate at any moment. However, as per the current price trend and technicals, the currency might hold its ground above $0.012 in the upcoming hours.