A Chinese journalist Colin Wu published Justin Sun, the founder of Tron, has invested $1 billion to acquire Huobi, a crypto exchange platform. He also stated that Justin Sun was present at the exchange delivery site this month in Singapore. However, Justin Sun said he did not participate in such an exchange. On the other hand, Huobi confirmed that the core operations would run under a new leadership because they have sold off their entire shareholding.
The TRON is a decentralized content-sharing platform that aims to free content and entertainment systems from any centralized authority. TRX is the native coin of this platform. It offers many benefits and can be treated as an asset using a fiat currency.
TRX also makes it possible to consume high-quality content at lower costs using this decentralized platform without fear of any censorship. The best part is that TRON offers private transactions between two parties, and there is another layer to make it secure, which is not available in Bitcoin and Ethereum.
TRON Foundation is a nonprofit organization that runs the platform and fights against internet censorship by giving complete control to consumers and content creators.
TRON was launched in September 2017, and it allows content creators many benefits and rewards who want to build content on this platform. It allows sending and receiving native coin TRX and offers incentives for developers. Investors could see a huge return if it becomes popular in the next few years. If you are interested in TRX, please read our price analysis for long-term investment.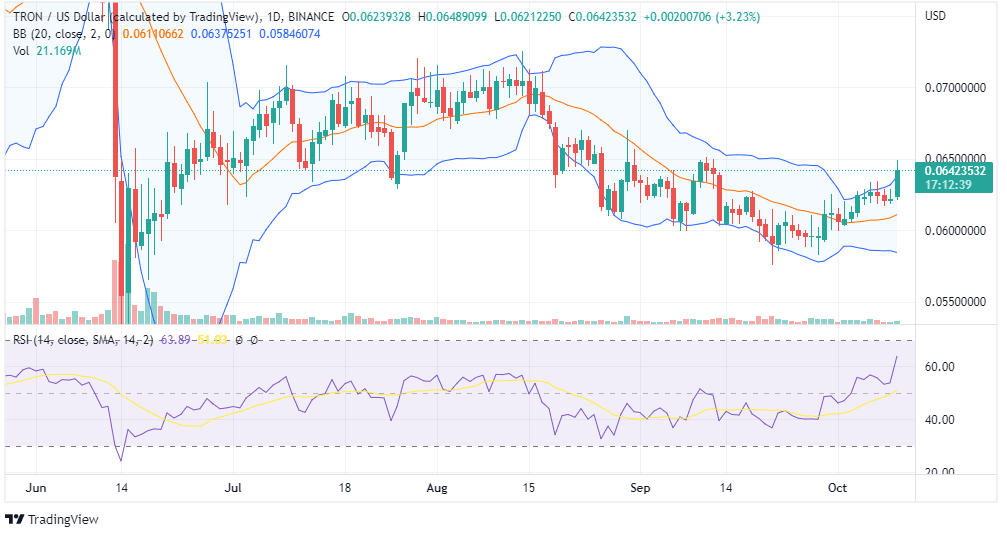 At the time of writing this post, TRX was trading around $0.064, which is around the upper range of the Bollinger Bands. Though it is facing resistance, we think $0.07 is a stronger resistance for the short term. After a downtrend, TRON is forming higher highs and higher lows with positive RSI, which makes an ideal opportunity for short-term capital gain.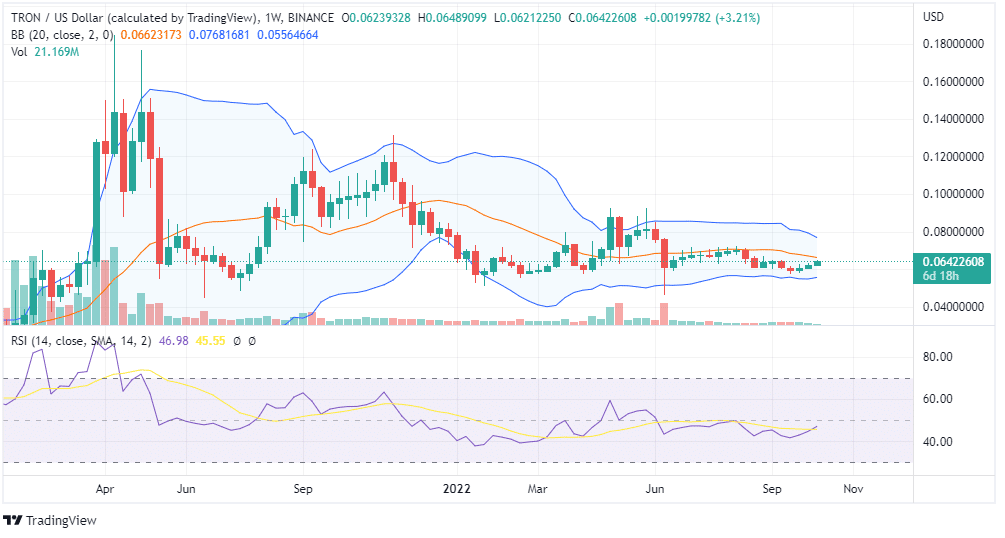 On the weekly chart, TRON candlesticks are consolidating within a range of $0.07 and $0.055 in the lower range of the Bollinger Bands, which does not suggest bullishness for the long term. However, we do not think TRX will break this support of $0.05, so you can invest at this level for the long term and wait for the next few years to get better returns.