Today, major cryptocurrencies are reflecting bullish influence. The same is the result of yesterday's astounding recovery. TRON coin also registered a huge hike and reshuffled 7-days high on the chart.
Today, the TRX coin is spotted under pressure, and thus, the price trading downwards. However, the moving averages are proving strong support to the coin, and the chances of improvement are still there.
TRON Price Analysis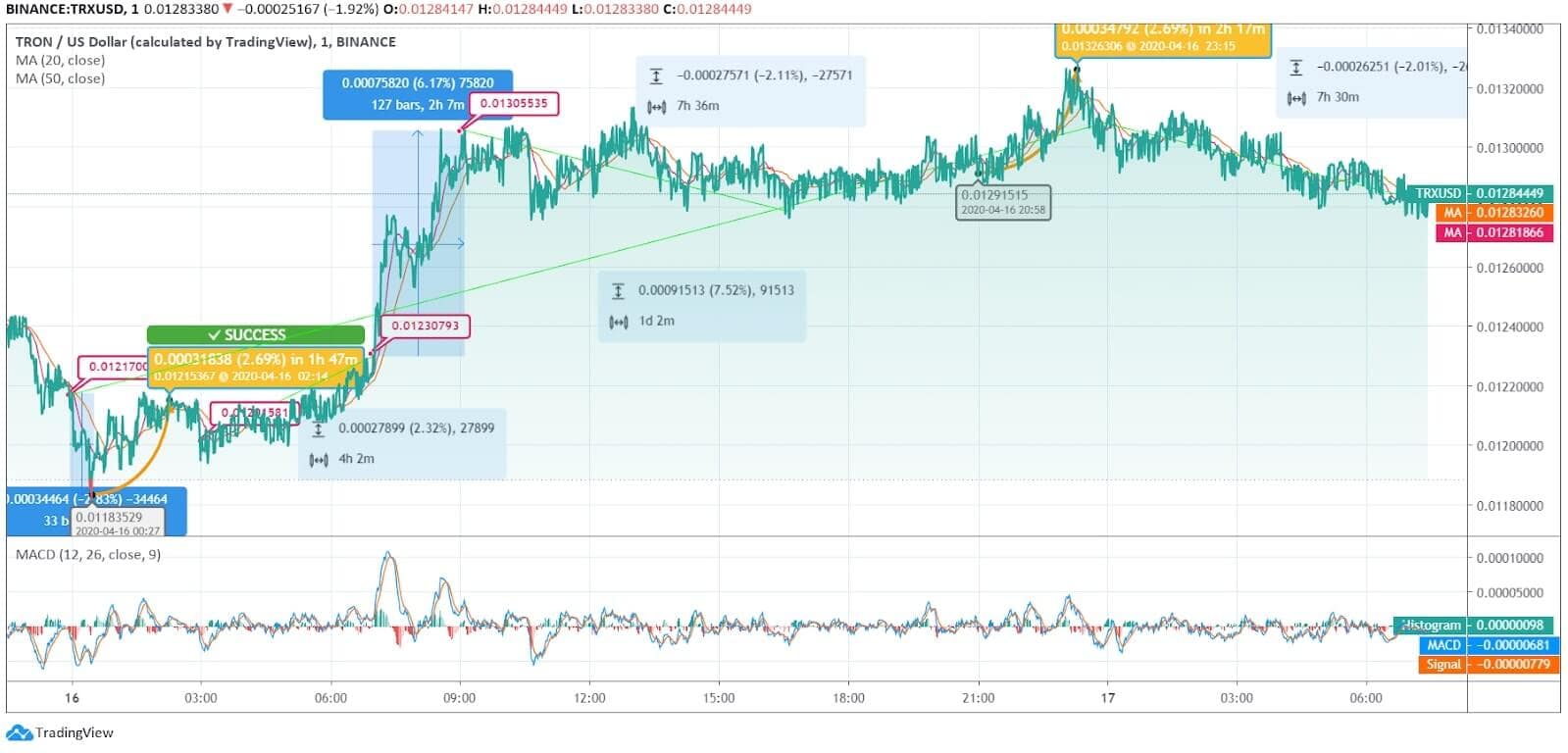 In the last week, after facing rejection above $0.0131 on April 13, TRON price was trading with moderate momentum, and till yesterday, it failed to cross $0.0128 price mark.
Yesterday, the TRX coin price spotted at $0.0121 during the first hour, and then, it dropped to $0.0118 by 2.83% fall in the next 30 mins, the plunge was immediately recovered by the currency as in the next 1 hours and 47 mins, TRON price reached $0.0121.
Later, with a slight drop to $0.0120, the coin picked up the pace, and at 07:07 UTC, the price spotted at $0.0123. The upside momentum strengthens, and in the next 2 hours, the price touched $0.0130. The later hours brought moderate regression.
At 17:00 UTC, the TRX coin was trading at 0.0128. The price hovered around the same level till 21:00 UTC, and then, the currency picked up the pace, and at 23:15 UTC, it touched $0.0132 by 2.69% hike. TRON currency closed the day at $0.0130, with an intraday progression of 7.52%. Today, the currency started trading with a moderate plunge. A similar trend has continued, and now the price is at $0.01284.
The short-term daily moving averages of 20 & 50 days are trending below the current price of TRON. The 50-day MA has crossed the 20-day MA and thus forming bearish crossover. While the MACD indicator is reflecting bullish crossover. The technical analysis of the TRX coin states that the price is trading towards the immediate support level at $0.0123. The same could be violated in the upcoming hours.