TRON price movement is reflecting a consolidation around $0.0125. As per the current price trend, the improvement can be expected in the upcoming hours. However, as per the technical indicators, the chances of having sluggish momentum are also ripe. The currency is reflecting the possibilities of marginal profit or mild movement around $0.0125 for the rest of the day.
TRON Price Analysis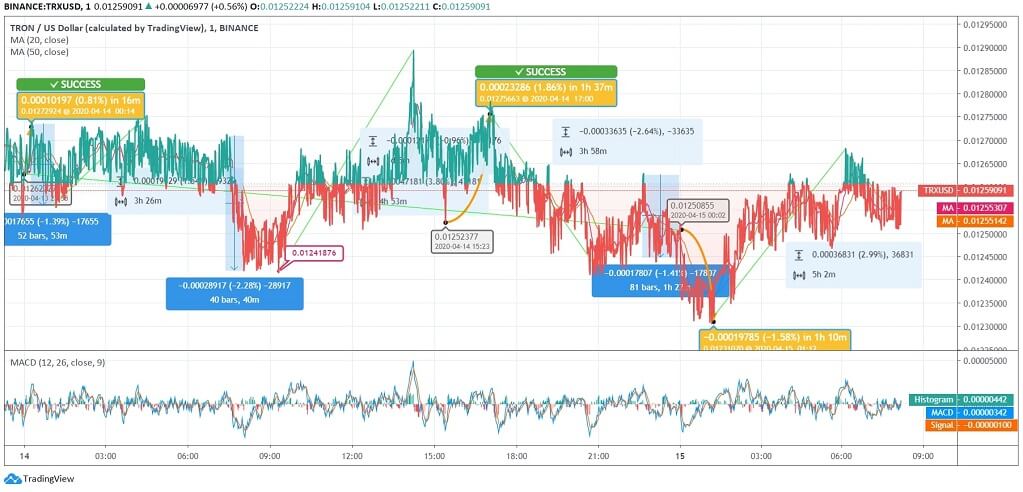 Yesterday, TRX coin started dealing at $0.0126, and then, it escalated to $0.0127 in the next 15 minutes, but soon regain $0.125 price mark. Later, the price improved again over the next 3 hours and 26 mins to $0.0127 by 1.64% hike, and then, it locked its price level around $0.0126 for the next 4 hours.
At 08:15 UTC, the TRON price faced steep fall and reached $0.0124. However, from this low, TRX coin marked a sharp upward move and touched $0.0128 in the next 4 hours, but again dribbled to $0.0125. Later, it managed to trade above $0.0127 but faced rejection, and the price fell to $0.0124.
Before closing the day, TRON price escalated to $0.0125 but slipped back to $0.0124. The day ended at the same level, with 0.96% regression in the price. Today, the TRX coin started the day with a heavy plunge to $0.0123 by 1.58% at 01:12 UTC. Later, the price improved to $0.0126 by 2.99% over the next 5 hours, but recently, it corrected down to $0.01259.
TRON holds the support from its short-term daily MAs. As per the MACD counters, the signal line and the MACD are also reflecting bullish crossover as the later has overlapped the former. And hence, technicals reflect the possibility of strong recovery, but as per the overall trend, it may continue to consolidate around $0.0125 for a while.
If the TRX price manages to trade upwards, it may breach the next resistance around $0.0127. The chances of falling to immediate support to $0.0122 are relatively more.