Verge (XVG) price is over the past 5 days
Verge(XVG) price has been taking a slow and positive step towards moving its position in the upward range over the past week. The bears had been continually pushing its price down since July, but now the tide seems to be slowly turning in favor of Verge. The price variation was in the range of $0.0048 – $0.0057.
Latest Statistics of Verge:
As on August 27, 2019, at 6:28:44 UTC, current statistics are as below: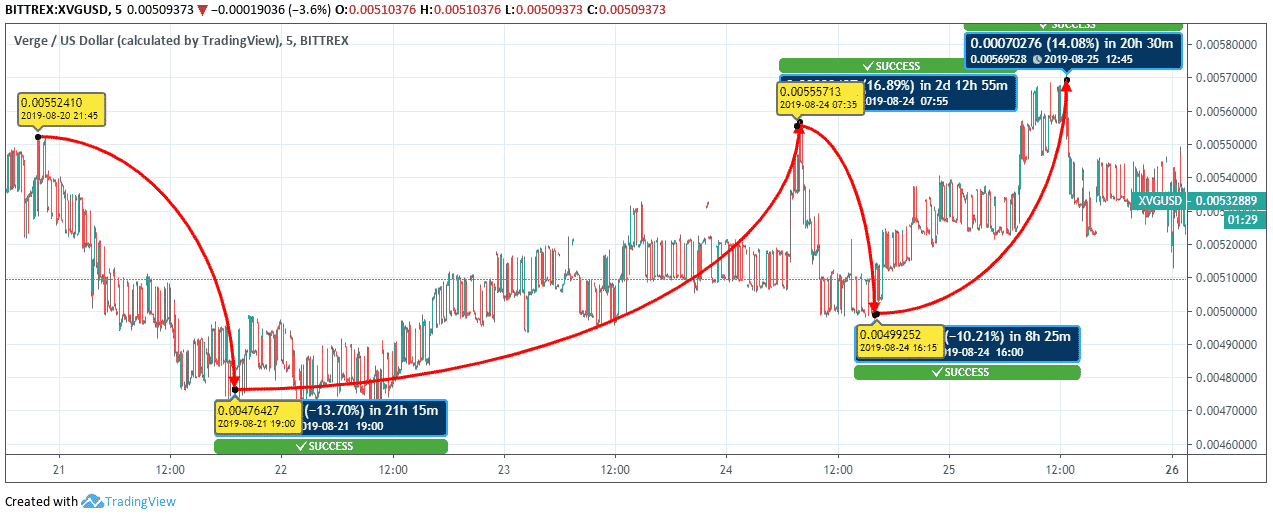 Current market price of XVG is $0.0053
Current rank of Verge is 70
Current market cap is around $82,021,801 
24h volume is at $953,259 
ROI is at a > 9000 % and Circulating supply is at a sound 15,902,900,999 XVG
XVG to USD Price Analysis
Verge is slowly recovering from the bear onslaught as seen over the past week. On Aug 20, the price of XVG was at $0.0055. It then fell to $0.0048 on Aug 21 in a matter of 21h 15m to the extent of 13.70%. The price then recovered well within 2d 12h 55m on Aug 24 to the extent of 16.89% at $0.0056. But the recovery was very short as within 8h 25m on the same day the price of XVG had fallen to $0.0050 to the extent of 10.21%. The market is in a stronger position the price again rallied to $0.0057 on Aug 25 in 20h 30m to the extent of 14.08%.
Verge seems to be in the mood in making good to the losses incurred due to the bear pressure during the whole of July. The prices have been recovering and moving in the upper range over the past week. Analysts feel this as a positive trend and feel that time has come for major altcoins including XVG to get back into the winning mode.
Investors can now relax a bit and keep holding their investments from a long-term perspective. Short term investors can gain if they invest wisely as the market is slowly rising for Verge.