Its better to say that the condition of the crypto sphere is turning at its worst with no sign of hopes in the upcoming days. The sustenance of altcoin like XMR is getting questionable for the more they are trying to peep up above the bearish trend, the more rapidly these are getting declined and for XMR, the condition is exactly the same. It is currently trading at its lowest values. According to the crypto enthusiasts, the condition is not expected to improve before this year ends so, one can well imagine how pathetic the condition of XMR may turn up in future.
Current Statistics of Monero
Price in USD: 78.54 USD
Price in BTC: 0.00821827 BTC (UTC time 06:53)
Circulating supply: 17,126,512 XMR
Market cap: $1,339,201,523 USD
Market rank: 14
XMR Price analysis and future price predictions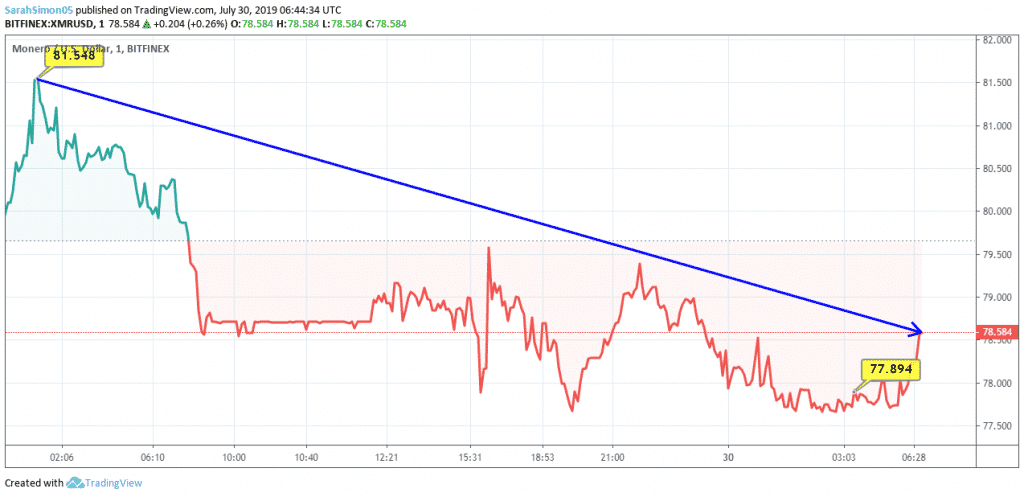 On the basis of the above 1-day chart of XMR, it is clearly understandable that it has declined very rapidly overnight. Its momentum has completely steeped downwards and has no positive sign of its going upward in the bullish trend. Yesterday, it had a value of 81.54 USD but today only, it declined down to as low as 77.89 USD. Within approximately one day, price shift of XMR has been noticeable enough and it has declined by 3.67%. Although, the price trend line of XMR is trying to move up a little but due to no effective support levels, it has great propensity to be in the same as of now. Considering all these facts, we think that in the upcoming days, XMR can have a value of $78.32.
Conclusion
In the concluding note, it can be said that XMR is in a highly fluctuating state and it is not going to improve in the upcoming days as well because of the market condition itself and obviously due to the erratic and turbulent nature of BTC. Therefore, one should not consider any sort of investment on the same currently.