TRON (TRX) has been under bear grip from the last few days. The past week has seen the coin is trying to move away from bear pressure at the beginning of the week, though the bears managed to pull down the price below the baseline after that. The price of TRX coin has been hovering in the range between $0.0194 – $0.0224 over the past week.
TRON Price Analysis
TRX coin has been continually striving to get out of the bear pressure as visible from the price trend of the past week. The price of TRON cryptocurrency started on a high note at $0.0224 on February 19, and then in some time, it faced steep fall and the price slide below the baseline to $0.0198 by 11.43%. Even then, the currency managed to recover slightly to the extent of 1.49% on February 20 at $0.0201.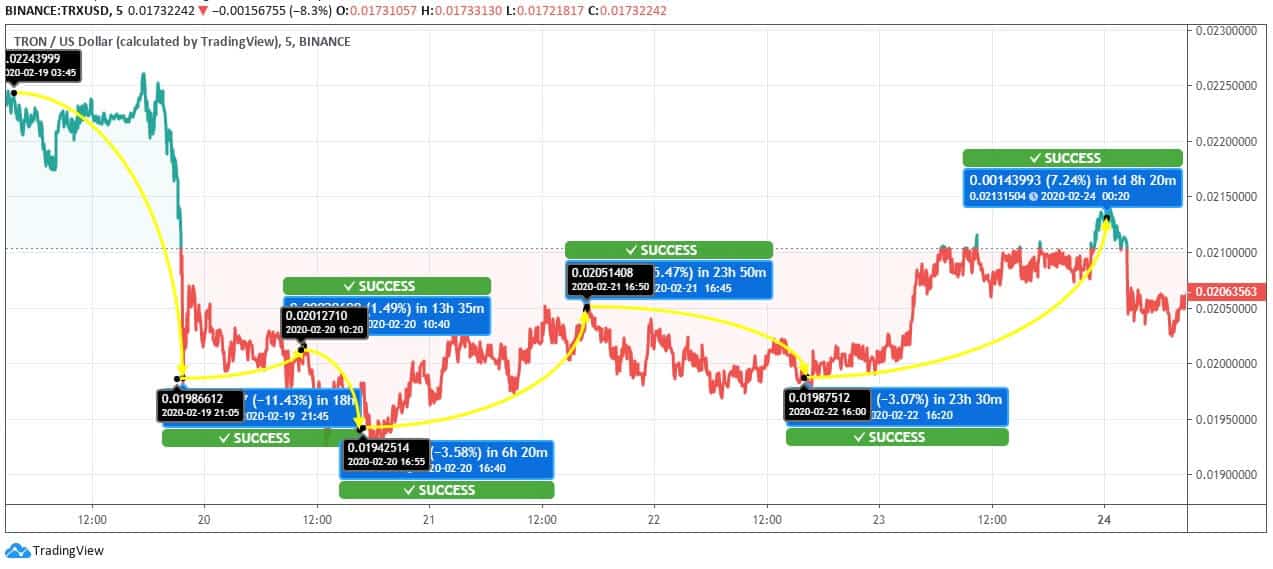 The bearish pressure continued, and the price of TRX coin again moved down to $0.0194 on the same day, the fall is at 3.58%. Though the TRON price continued to be below the baseline, it still managed an upward rally on February 21 and reached $0.0205 by a moderate hike of 5.47%. On the next day, the price of TRX again moved in the downward direction and touched $0.0198, showing a fall of 3.07%. The coin then showed a good rise to the tune of 7.24%, taking the price above the baseline on February 24 at $0.0213. Today, the coin has started with moderate downward momentum and fell to $0.0206.
TRX price is vying for an upward momentum though the continual bearish sentiment has upset its plans in the short run. Analysts are, however, confident in the ability of the coin to bounce back and show more stable momentum during the year.