Tron price movement has been disturbed by the recent fluctuation in the market. A few weeks ago, the coins were spotted crashing and at that time, TRX price also dribbled below the 52-week low and set a new at 0.0075 USDT. The improvement in the coin took place later and thus the coin improved to 0.0111 USDT. The growth in the coin is spotted holding itself tightly.
TRON Price Analysis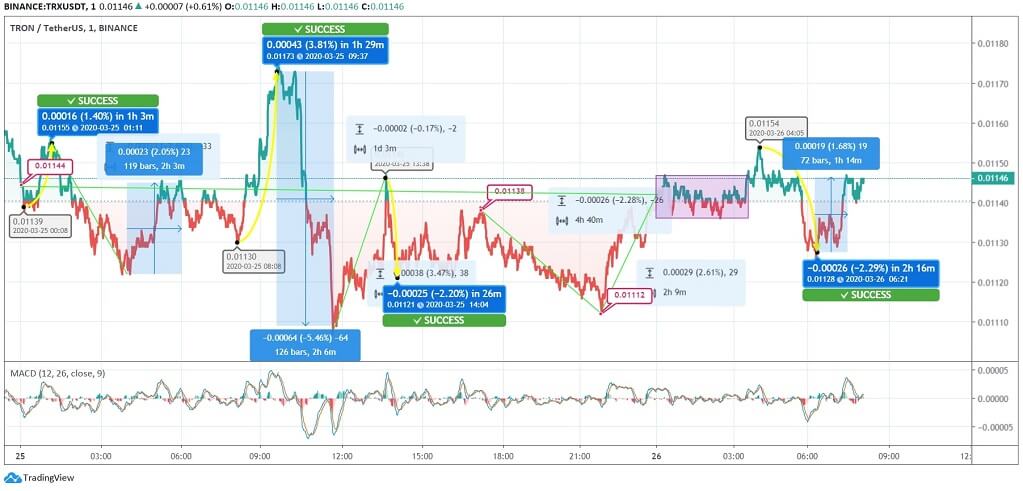 Since the beginning of this year, TRON marked massive volatility in its price movement. From mid-February, it traded under strong bearish hold. Yesterday, the coin was spotted around 0.0114 USDT at the initial hour. Then, it plunged slightly to 0.0113 USDT but soon recovered to $0.0155. Later, the coin faced steep fall and the price plunged to $0.0111 but recovered again to 0.0115 USDT at 06:00 UTC. From this level, TRX coin price again slipped a little in the following hours but at 09:37 UTC, it spotted an astounding jump to 0.0117 USDT.
From this high, the currency registered a sharp decline and the price dribbled to 0.0111 USDT but soon spotted recovery that brought the TRON price to 0.0113 USDT. However, the bearish pressure remained intact and the price plunged to $0.0112. later, the coin reflected slight recovery and regain its price level around 0.0113 USDT and then, continued to trade at the similar range till 3:00 UTC today.
At 04:05 UTC, TRON price was trading at 0.0115 USDT and then, it plunged to the tune of 2.29% in the next 2 hours. Recently, it marked recovery and the TRX price touched 0.0114 USDT. At the time of writing this analysis, the coin was tilted towards the immediate resistance level at 0.0116 USDT. The same is likely to be breached in the next few hours.