The crypto market is currently under the bearish influence. Well, as much there are chances of a down surge, there are equal possibilities of improvement too in the price of most of the cryptocurrencies. The prevailing scenario is amidst the mix, and the same is likely to remain for some time.
If we look at the price movement of the past week, TRON has begun the week above $0.011 mark with moderate momentum. Later, it faced heavy volatility. Today, TRX coin has begun the day with an astounding improvement, which later caught by the pullback pressure. The intraday trading is likely to remain positive as per the current momentum.
TRX Price Prediction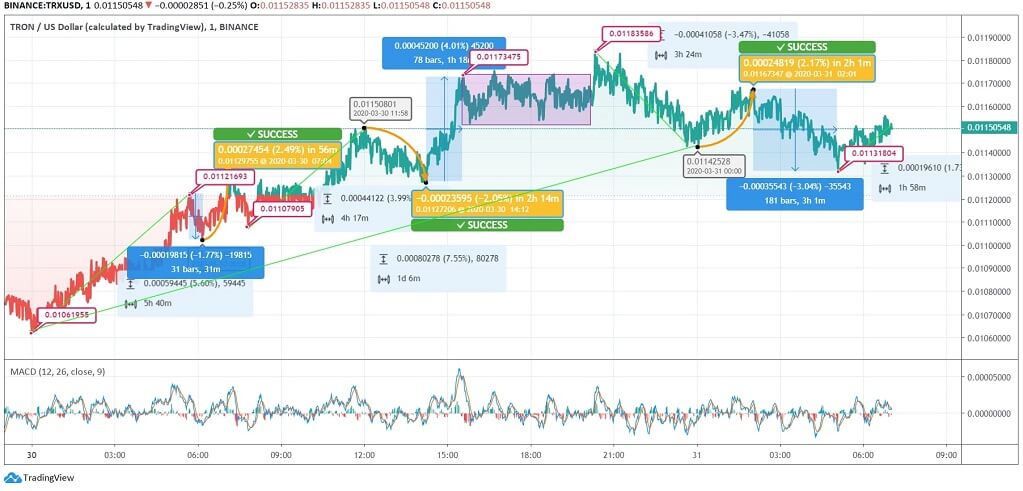 Yesterday, TRON coin started dealing at $0.0106. from this price point, the currency marked steady upside rally, and in the next 5 hours, the price escalated to $0.01121 by 5.60%. After this hike, TRX coin faced a slight plunge to $0.0110, but then, the price picked up the pace and reached $0.01129 again. However, the price fell again, and the price touched $0.01107, but then, the coin reflected a steep hike and reached $0.01150 at 11:58 UTC.
Further, TRON price dribbled to $0.01127, and later it escalated to $0.01173 by a 4.01% hike. The price trend remained intact for the next 3 hours at the same level. The coin faced pullback pressure at the closing hour that brought the price to $0.01142, and the coin closed the day around the same level. Despite the selling pressure, the day-long movement brought a 7.55% progression in the TRX price.
Today, TRON again started the day on a positive note and marked a 2.17% upsurge. The price counters moved from $0.01142 to $0.01167. Further, the price slipped to $0.01131 by 3.04% fall. Recently, the momentum improved, and the price touched $0.01150 again. The coin seems near the immediate resistance level at $0.0118. The chances of violating the same are ripe and look like the upcoming hour would help the coin reach at the same level. However, if the market pressure increases, then the TRX coin could be spotted trading downwards and reaching the immediate support level at $0.0109.