TRON price has been continually holding its ground against the strong bearish undercurrent in the crypto market over the last few days. The price of the TRX coin had shown a remarkable recovery yesterday when it breached a high of $0.014 amidst continual selling pressure. The price fluctuations have been in the range between $0.013 – $0.014 over the past one day.
TRON Price Analysis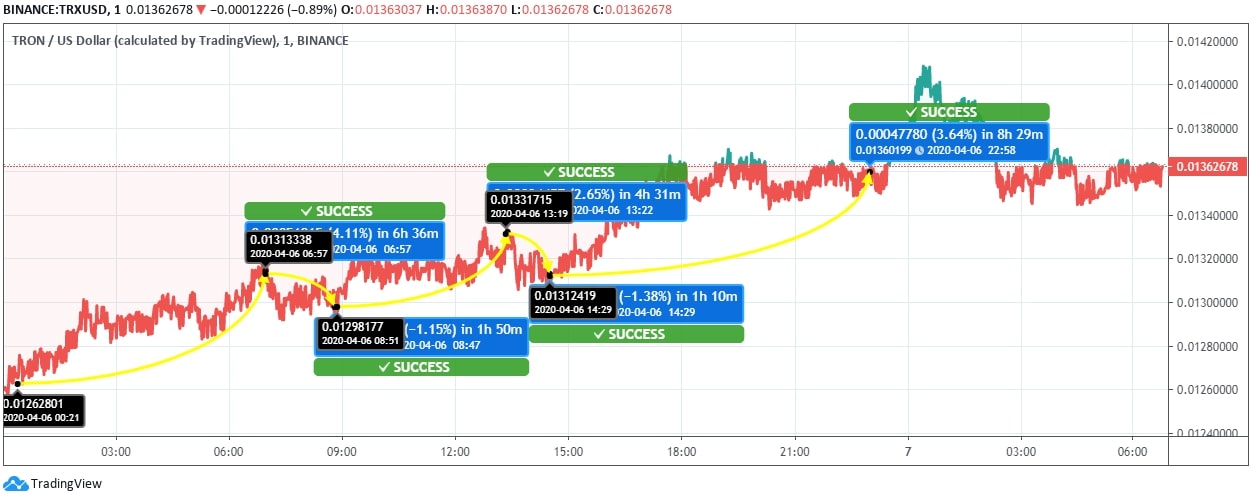 TRX price has shown its mettle to the bears since the last few days as it continued to manage its price level above $0.011 over the last week. Yesterday, the price of TRON coin was below the baseline at $0.0126 at 00:21 UTC. Then, in the next almost 7 hours, the price rose to a high of $0.0131 by 4.11% hike. Later, it fell to $0.0129, but immediately, it marked recovery, which took the price of TRX coin to $0.01331 at 13:22 UTC. After breaching a $0.013 mark, TRON again faced rejection, and the price fell to $0.01312 by a moderate fall. However, after this fall, the currency marked continual upside momentum, and at 22:58 UTC, it reached $0.01360.
Today, the coin has begun the day on a positive note as it breached $0.014 mark, but then, it regained its price level around $0.01362 at the time of writing this analysis. TRX price has been giving the bears a good fight, as evident from the price momentum of the last 24 hours. Analysts expect TRON to post good price swings even under strong bearish momentum.
Current investors should continue to hold on to their investments and think only from a long-term investment. Day traders and short-term investors can continue to trade but should be careful as the crypto market is still highly volatile.